Insight
How to become a psychotherapist in the UK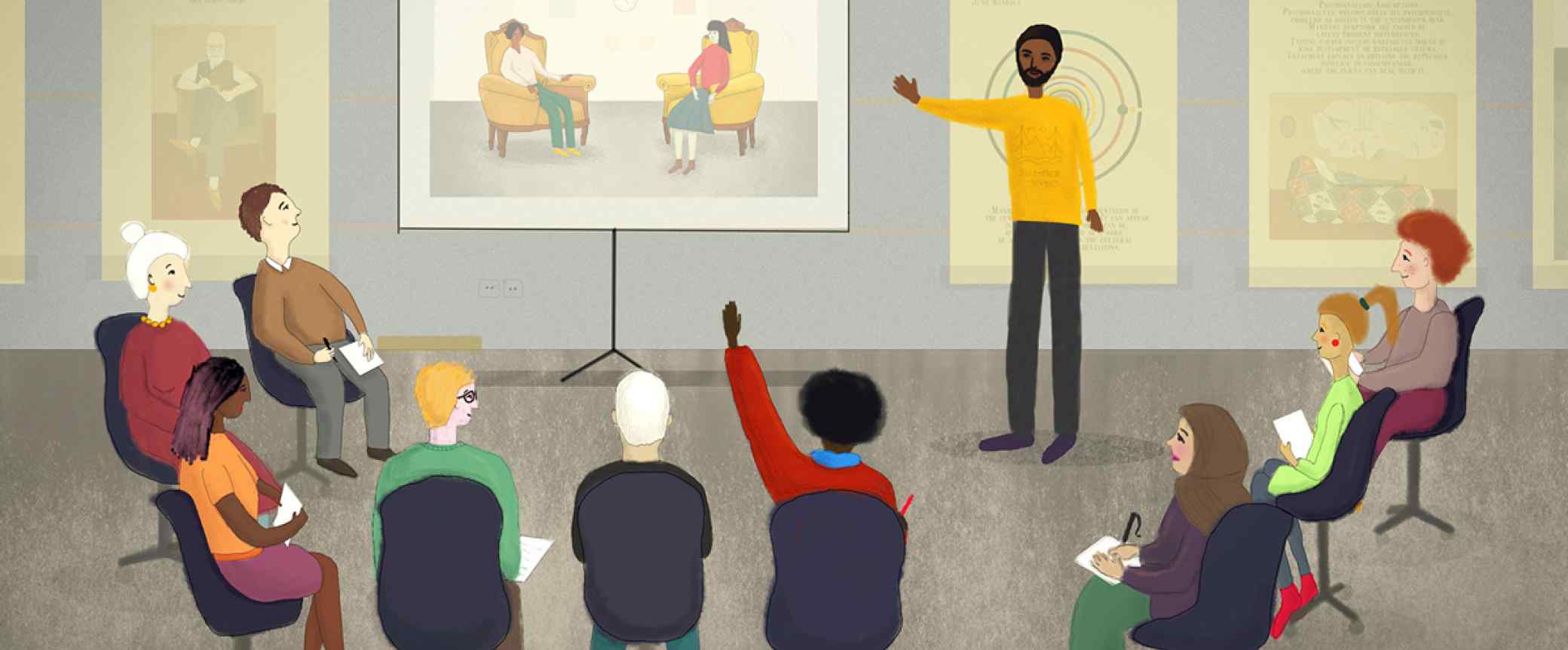 Working as a psychotherapist is one of the most rewarding, supportive and flexible careers out there, but the journey to becoming one can often seem convoluted. In this article, we'll break down all the steps you need to take to qualify as a psychotherapist in the UK.
1. Research different types of psychotherapy
Before you train, it helps to have a general idea of which therapeutic approaches you like and value.
There is certainly a wide variety to choose from (and the following list is by no means exhaustive) but some of the main approaches to research could be: Psychoanalytic, Psychodynamic, Jungian, CBT, Existential, Humanistic and Integrative.
The 'In A Nutshell' series of books are a great place to start, as they provide excellent explanations of some of the main theoretical modalities.
Another way to research is to start therapy yourself, in a modality you are curious about, to see if the approach you have chosen works for you. Receiving therapy from a trainee can help you to manage costs (sessions can cost around £20). It is crucial that you believe in the benefits of the type of therapy you will be going on to study.
2. Study a Foundation Course/Introductory Training
To become a practising psychotherapist in the UK you need to study a 'qualifying training', accredited by a professional association (such as the BACP, UKCP, BPC, ACP). These are taught courses which contain both clinical experience (working with clients under supervision) and teaching about psychotherapy theory. In general, psychotherapy trainings take 4+ years to complete.
To gain entry onto a qualifying course, however, you will often need to have completed a foundation/introductory course beforehand and gained relevant experience in a listening role.
Foundation courses will give you a comprehensive introduction to psychotherapy theory and practice, in the modality of your choosing. Most courses also contain practical exercises, where you will role-play as a psychotherapist and receive feedback from your peers, and an experiential group. Experiential groups are directionless, meaning they do not have a set agenda, and really the purpose of participating is to learn more about how group dynamics work, and how you act in a group. It is amazing how much can happen when a group of people come together on a regular basis and are simply invited to sit with one another!
Something important to note is that foundation courses don't always contain a clinical experience element (which is essential for acceptance onto a qualifying training), so it's a good idea to find relevant experience outside of studying. This could be volunteering in a befriending role, or at a crisis line like Samaritans, for example. Finding a placement in a clinical setting, where you are supervised, is the very best form of experience you can get. On the bpf Foundation Course, we have tried to address the lack of clinical experience in introductory courses by including a Clinical Module, during which our Clinical Placement Tutor helps students to find a supervised clinical placement – the essential experience trainees need for qualifying training is covered from the very beginning. This part-time course can be studied completely online, or at the bpf House in London (Kilburn) on Saturday study days.
3. Apply to a qualifying training
After completing your introductory psychotherapy course, you can apply to a qualifying training. These courses require a lot of commitment, but many describe them as completely transformative. The courses are also often part-time, so you can work alongside your studies.
It's best to choose a course that is accredited by one of the main professional psychotherapy organisations (BACP, UKCP, BPC, ACP, for example). Without this seal of approval, you have no way of gauging the quality of the training, and it can affect your employability later down the line.
Your roughly 4-year training will involve lectures, seminars, experiential groups, research, essays, working with clients in a clinical setting, and also attending regular therapy yourself. In all likelihood, you'll form a very strong bond with your fellow trainees, and by the end of it all, you will be ready to go out into the world as a qualified psychotherapist.
4. Join a professional association
The final step to becoming a qualified psychotherapist in the UK is joining a professional association and/or members' body. If you have studied a training that is accredited by one of these associations (i.e the BPC), you will be eligible to apply to the same association.
To join certain professional associations, like the BPC or UKCP, you will need to join a members' body (like us, the British Psychotherapy Foundation) in order to be part of the umbrella of the professional association. Perhaps it is useful to think of your members' body like a guild or club, which will provide you with opportunities for continuous professional development, career advice, ethics support, supervision, and networking opportunities with other psychotherapists. Through your guild, you'll also be connected to the broader professional association.
What about funding my studies?
Training as a psychotherapist can be expensive. But there are options available to help you pay for your studies.
Taking out a postgraduate/professional development loan is an option for some. Sometimes training providers will allow you to pay in instalments, which can help you to spread the cost, or certain courses will be subsidised substantially by government funding.
Another option is asking your employer to sponsor your training. If you work in a relevant field already, like nursing or social work, your employer may have an assigned budget to support you with further study.
Conclusion
We hope this article has demystified the path towards becoming a psychotherapist in the UK. If you follow all of these steps, you'll be able to join an incredibly rewarding profession.
If you are interested in learning more about how the bpf can support you in your journey to qualification, take a look at our course listings (particularly our Foundation Course) or drop us an email at [email protected].
You can also subscribe to the bpf newsletter, for all the latest psychotherapy advice, course info, events and networking opportunities.