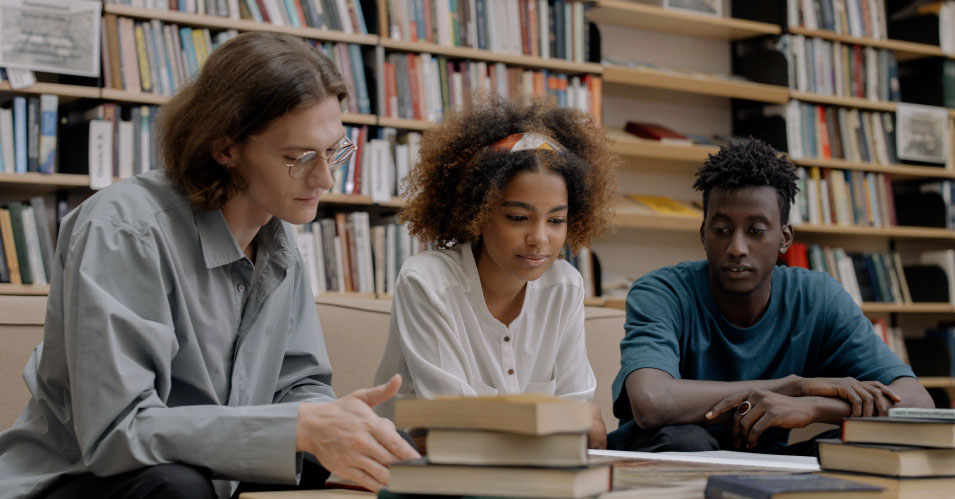 Foundation Course – Psychotherapy & Counselling
Part-time. Study in London, Online or Hybrid.
Course length: 1 Year
The bpf's Foundation Course was designed for those at the very beginning of their journey to become a qualified psychotherapist or counsellor. Built with flexibility in mind, this training is delivered through a combination of in-person and online teaching that is perfectly suited to those looking to change careers.
This Foundation Course is now the first year of our 4-year bpf Psychodynamic Psychotherapy Training. After completing the Foundation Course you can apply to join year 2 of the bpf Psychodynamic Psychotherapy Training, which takes a further 3 years to complete and leads to qualification as a psychodynamic psychotherapist.
After completing the Foundation Course, students can also choose to apply to other qualifying trainings besides the bpf psychodynamic training, such as our Jungian Psychotherapy Training. See our Psychotherapy Training Pathways diagram to view the potential pathways to qualification as a psychotherapist or analyst after completing the Foundation Course. Tutors will help you to prepare for your chosen training pathway and to meet the eligibility criteria, whatever you decide.
During this programme, trainees will gain an in-depth understanding of psychoanalytic and Jungian theory, and have the opportunity to reflect critically upon the ways in which these ideas intersect with their personal experiences and the world at large. Unlike other psychotherapy foundation programmes, the bpf Foundation Course contains a supervised clinical placement and taught clinical module, where students will gain the practical experience that is essential for acceptance onto further clinical training.
The course aims to encourage critical thinking about human behaviour through a theoretical lens, facilitate opportunities for self-reflection, investigate differences in a creative and inclusive group setting, and spark the development of each student's unique identity as a practitioner.
Students that successfully complete the Foundation Course will have all of the theoretical and clinical experience needed for the bpf's qualifying courses, or other clinical trainings in psychodynamic, Jungian and psychoanalytic counselling or psychotherapy taught elsewhere.
Why study this course?
Who is it for?
Course content
FAQs
Course fees
Course structure
Entry requirements
Training Pathways
How to apply
Taking the first steps towards becoming a qualified psychotherapist can be daunting, and that is why we created a foundation course to provide trainees with all of the support, guidance, theory and experience they need at the very start of their journey.
Students will learn from experienced psychoanalytic psychotherapy clinicians, academics and researchers, and be taught to the bpf's exacting clinical and academic standards. Each trainee will also be provided with a tutor who will support them with their studies and offer further career guidance.
In addition to receiving world-class teaching, this part-time Foundation Course offers unparalleled flexibility and is easily accessible to those already in full time employment, as well as those who live outside of London. Where other programmes require in-person attendance on a weekly basis, the teaching on this course alternates between monthly in-person study days on a Saturday and fortnightly seminars that can be taken in-person or online. If desired, students will only need to attend Saturday study days in London once per month.
This course is uniquely positioned among psychotherapy foundation trainings in that it includes a clinical module which both teaching and a placement. In this clinical module, students will gain essential practical experience and start formulating their identities as practitioners. The taught component of the clinical module will also teach students about the nature of the therapeutic relationship and how to develop an analytic attitude. All students will benefit from the support of our dedicated placement officer, who will help students to secure a relevant placement during their studies.
This course will be of interest to those looking to take their first steps towards becoming an accredited psychotherapist.
Students that successfully complete this foundation course will have all of the theoretical and clinical experience needed for the bpf's qualifying courses, or other clinical trainings in psychodynamic, Jungian and psychoanalytic practice taught elsewhere. After completing the Foundation Course, students that wish to gain entry to a bpf qualifying course will also need to complete one of our Infant Observation courses.
The course is open to all sections of society and encourages applications from a diverse range of people. You may already be working in the caring professions (such as a GP, Social Worker or Nursery Nurse) or you might come from a completely different background.
Life experience is strongly valued. Just bring your curiosity, openness and an interest in exploring new ways of looking at the self and the world.
The theory module syllabus has been designed to facilitate reflection on the ways in which psychoanalytic and Jungian thinking can be applied to both one's personal experience as well as political and social issues. You will examine questions ranging from 'What is a mind?' and 'How do we become who we are?' to thinking about issues like group dynamics, racism and homophobia.
In the clinical module, students will gain essential practical experience and start formulating their identities as practitioners. The taught component of the clinical module will also teach students about the nature of the therapeutic relationship and how to develop an analytic attitude.
How flexible is this course?
Flexibility is at the heart of the bpf foundation course, and we will endeavour as much as possible to tailor the structure and timeframes to suit your needs and experience. For students that favour online learning, we will aim to facilitate this as much as possible, however in-person attendance for Saturday study days (once per month) is still a requirement.
If you are already gaining relevant clinical experience at work, or voluntarily, you may not be required to find another placement during your studies.
If you have any questions about anything mentioned above, please email: [email protected]
What happens if I have already completed the Psychotherapy Today course?
Students that have completed, or are currently studying, our Psychotherapy Today course will only need to take the clinical module on the Foundation Course to complete the programme. A reduced course fee will be available in such circumstances.
To find out more before applying, please email: [email protected]
Who is teaching?
All seminar leaders, discussion facilitators and mentors are bpf psychoanalytic psychotherapists, Jungian analysts, child and adolescent psychotherapists or psychoanalysts working in private practice, the voluntary sector and the NHS. All course members are skilled and experienced in managing and facilitating thinking and feelings in a group and individual context.
What other learning opportunities are out there?
The bpf offers infant observation groups, reading groups and advice on personal training analysis if you wish to develop your learning further. These may be taken in conjunction with the Foundation Course , particularly if you are looking to apply for qualifying training. On the course you will be assigned a personal tutor, who will be able to advise you on pathways to training.
2024/2025 Fees
Total course cost: £5150
The course fee is £5150, payable on offer of a place on the course (you will be invited to register and pay via debit card through a secured payment page). The Foundation Course fee can be paid in termly instalments.
You can also choose to pay for the modules individually, at your own pace:
Theory Module (Psychotherapy Today) – £1605
Clinical Module – £3545
Students that have studied or are currently studying our Psychodynamics of Human Development MSc can study the Clinical Module for a reduced fee of: £2266
Please contact: [email protected] to find out more.
Please note that the bpf will not be held responsible for travel/hotel expenses made or incurred in the unlikely event of this course either being cancelled or postponed. See our cancellation and refund policies for more information.
Student membership
Whilst studying, Foundation Course students must hold a bpf student membership, which costs £101.65 per year (the course takes one year to complete). This will entitle you to access the bpf library and journals, member events and other networking opportunities.
This course is comprised of a theory module and a clinical module. The content will be delivered through seminars, discussion groups, and a clinical placement.
Theory module
The Theory module consists of seminars that take place on Saturday study days, once per month (choose online or in-person attendance).
On each Saturday study day, two seminars are delivered on a specific theme; one seminar offers a psychoanalytic perspective, the other a Jungian perspective. In the initial seminars, you will be introduced to a range of theories and models of mind, starting with Freud and Jung all the way through to the present day. The rest of the seminars will take a more applied approach, exploring how 'Psychotherapy' can be thought about and practiced 'Today'.
Each Saturday study day is finished with an experiential group, which is an excellent way to learn about and experience unconscious processes and group dynamics.
Clinical Module
The clinical module will include a clinical placement, as well as taught clinical seminars and discussion groups. In the first half of taught semainars, students will learn about:
Setting up a therapeutic frame
The core components of the therapeutic relationship
Transference and counter-transference
Holding an analytic attitude
In the second half of these seminars, a work discussion group will take place where students will have the opportunity to reflect upon their experiences during placement in a supportive setting.
FOUNDATION COURSE – CLINICAL TERM DATES 2023-2024
2023/2024 Clinical Seminar Dates:
Term 1
5 October 2023
19 October 2023
02 November 2023
23 November 2023
07 December 2023
Term 2
11 January 2024
25 January 2024
08 February 2024
22 February 2024
07 March 2024
Tutorials
Students will be allocated a tutor to support them during their studies. Tutors will also help to prepare students with their applications for further study.
Other course components
You will be provided with suggested reading and watching lists and can immerse yourself as deeply as you wish.
Although not a requirement we highly recommend that students are in therapy to help support you on the course. Learning of this nature can stir up unexpected feelings and it is really helpful to have a place to work these through. Being in therapy is a requirement for entry onto further qualifying training. If you have any questions about this, please email Urvashi Chand, Foundation Course Director, at: [email protected]
If you would like more information on accessing therapy with a bpf member please click here.
To apply for this course, please download and complete the application form and email it to Urvashi Chand, Foundation Course Director, at: [email protected]
It has been wonderful to have studied at the bpf, it has changed so many perspectives in my life and I truly cherish this rich experience."

Catia, bpf Student
Simply, it exceeded all my expectations, and sufficiently impressed and enthused me to consider a future career in psychotherapy. On a personal level it has changed me; something that has been accelerated by beginning my own personal analysis. I find myself thinking about non-verbal communications much more as a consequence of having attended the course."

bpf Student
The 'course has allowed to dip my toe into the analytic world and provided a broad overview of the analytic landscape. It has enhanced my understanding of psychoanalytic ideas and I've particularly benefited from speaking to experienced clinicians. The discussion groups in particular have been useful to clarify my own ideas and get a different perspective from others. Overall, it has helped me to determine if I would like to pursue work in this field."

bpf Student